SAN ANTONIO FREEWAY HISTORY
Read my essay on San Antonio's freeway history for the Express-News' Tricentennial series

here.

The full history of the freeway system is available on this site

here.
San Antonio Area Roads & More
Which Wurzbach?
---
This page last updated March 26, 2012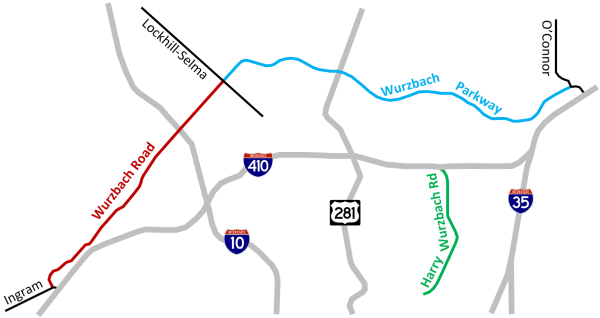 San Antonio is known for having an unusual number of street naming idiosyncrasies that confound locals and visitors alike. But one of the most confusing is that there are three distinct roadways with "Wurzbach" in their name: Wurzbach Road, Wurzbach Parkway, and Harry Wurzbach Road. Here is an explanation of each:
Wurzbach Road:

This roadway starts at Ingram Road just outside Loop 410 at the main entrance to Ingram Park Mall. It then runs northeasterly through the Medical Center, crosses I-10, and ends at Lockhill-Selma Road where it becomes Wurzbach Parkway.

Wurzbach Parkway

: Wurzbach Parkway picks-up at Lockhill-Selma Road where Wurzbach Road ends. Although it connects to Wurzbach Road, Wurzbach Parkway is distinctly different from it in that it is a state roadway with expressway characteristics along much of its route. It stretches across the Northside and ends at O'Connor Road near I-35 (the middle section is currently under construction.) In conjunction with a stretch of Wurzbach Road, this will provide a full east-west corridor connecting I-35 to I-10 between the loops.

Harry Wurzbach Road:

This is a completely separate roadway that runs from Loop 410 to Fort Sam Houston. Since it is its own road, it is important to remember to call it

Harry

Wurzbach; calling it just "Wurzbach" by itself is incorrect and likely to cause confusion.
Hope that clears it up!