San Antonio Freeway System
History
---
This page last updated October 20, 2017



Below is Version 2.0 of the best history of the San Antonio area freeway system that I can assemble. The information on this page was compiled from a wide variety of sources including old city maps, newspaper articles, and an array of highway plans and documents. Many thanks to the San Antonio Central Library Texana section and the San Antonio district office of TxDOT for their assistance in locating those materials.

This page covers the history of the expansion of the overall system but not capacity expansions on individual freeways. Details of those capacity and reconstruction projects are available on the individual freeway pages elsewhere on this site.

For other historical maps and photos, see the photo gallery page.
---
---
General
San Antonio began to plan and develop its freeway system during World War II and was one of four cities with a Texas Highway Department Urban Expressways division (the others being Houston, Dallas, and Ft. Worth.) Maps from the mid 1940s show "Interstate Highways and Expressways for post-war construction." In plans and news reports, the routes were interchangeably referred to as expressways; urban expressways; freeways; or interregional, intrastate, or interstate highways. In the subsequent decades, numerous freeway plans were proposed. Not all of them were implemented, but most were, leading to the system that is in place today. Below are maps and descriptions of the system (both completed and proposed) at various points during the last 70 years. The years chosen were those for which I could find definitive information or were benchmark years in the development of the system.
On the maps below, I've tried to show a segment as complete only when the full freeway was open to traffic. In many cases, a lesser roadway was built first such as a divided highway or access roads, followed some time later by the full freeway. For the '50s and '60s, it was difficult to differentiate these levels of completion, so some segments may show as complete even before having been a full freeway.
In some cases, I found conflicting or incomplete information, so I had to extrapolate or infer the status of particular segments at certain times based on earlier and/or subsequent reports. This may result in some minor inconsistencies.
Early freeways here replaced existing US and State Highways and initially carried those route numbers. It wasn't until the early and mid '60s that Interstate shields began appearing on local freeways. For consistency and ease of reference, I refer to the current route designation of the roadways in the discussions below. For reference, here is a list of the early highway designations, including the state highway designation that preceded the US route number as well as the main pre-freeway routing of those roads. Most of the routes were adjusted several times as the freeways continued to usurp them.
TODAY
U.S. HWY
PRE-U.S. HWY
DESIGNATION
PRE-FREEWAY ROUTING

WEST
Fredericksburg Rd., N. Flores St.

EAST
E. Commerce St.

NORTH
Broadway, Austin Hwy., Randolph Blvd.

SOUTH
S. Alamo St., Nogalitos St., New Laredo Hwy.
S. Presa St.

WEST
W. Commerce St., Old Hwy 90 W, Kriewald Rd.

NORTH
San Pedro Ave.
N/A
Today's I-410 east of NW Military Hwy. to Austin Hwy., then south along today's I-35N to WW White Rd., then along today's routing of WW White Rd. and SE/SW Military Dr. (LP 13) to US 90W.
---
Pre-1945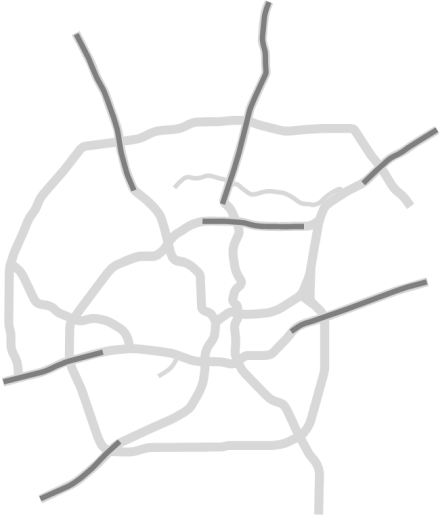 During the construction of San Antonio's freeway system, several existing sections of US and State routes in the outlying areas were upgraded to freeways. The maps on this page show those sections in dark gray as "pre-freeway" roadways until the time they're upgraded. Where known, freeways that were preceded by farm-to-market roads or newly-built divided highways or access roads are also shown as "pre-freeway" as those roads were built.
---
1945

City street maps from the mid 1940s show the earliest proposal for an "Urban Expressway" network. That proposal included today's "Downtown Y" sections of I-10 and I-35 as well as the entire route of today's I-35 North. I-35 South was proposed to follow Nogalitos from its intersection with present-day I-35 down to New Laredo Hwy., then south along that roadway to its present-day intersection with I-35, then south along present-day I-35 from there. I-10 West was proposed to roughly follow the rail line from downtown to NW Bexar County. I-10 East was proposed to approach the city along the present day I-10, then run along a northwest diagonal route from near WW White to I-35 near Walters St. Today's Loop 410 between NW Military Hwy. and Harry Wurzbach was actually part of the Harry Wurzbach Military Highway, which was a single road connecting Fort Sam Houston to Camp Bullis. This is why those intersections are angled the way they are to this today.
---
1952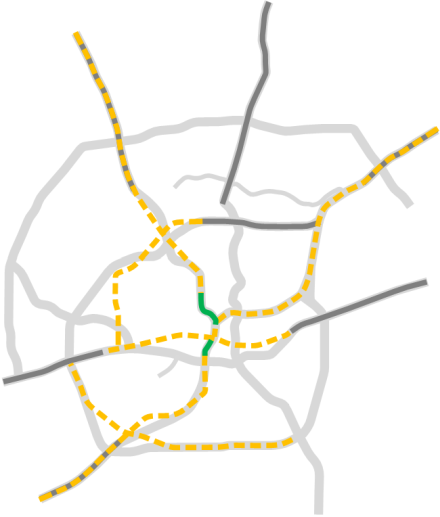 The city's first freeway, a 0.7 mile section of I-10 West from Fredericksburg at Woodlawn to Culebra, opened quietly in mid-July 1949. On November 28, 1949, a ribbon-cutting ceremony on the Colorado St. overpass celebrated the official opening of the longer segment from Woodlawn to today's Frio St. interchange (Comal St. at the time.) A year later, the freeway was extended from Frio to Martin where it merged into Pecos St. going southbound and from San Saba St. coming northbound. The first section of I-35 South, stretching from Guadalupe to Nogalitos, opened in late 1952.
The proposal for the northern end of I-10 West had now been modified to jog further to the west, meeting Fredericksburg Rd. near Huebner. The I-35 South proposal had been modified to use today's alignment as far south as SW Military, then to proceed west on Military to New Laredo Hwy., then south from there. The I-10 East proposal was unchanged. A proposal to extend Loop 410 to the west of NW Military Hwy. would have routed it to near today's intersection of Callaghan and Fredericksburg.
---
1955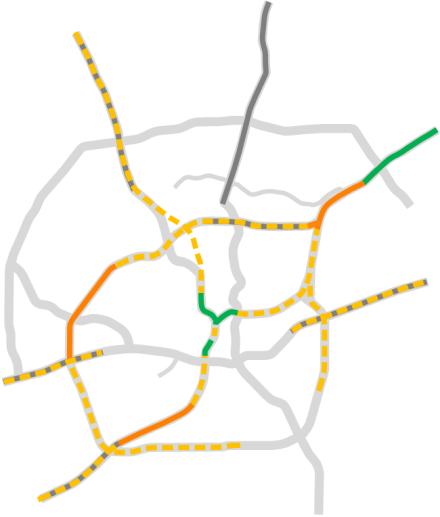 The first section of I-35 North, from Martin to Broadway, had been built and was now open.
Large sections of outlying freeways were now under construction. The first section of Loop 410 (then known as Loop 13) running from US 90 to Bandera was under construction. The alignment for I-35 South between Military and the future Loop 410 had been adjusted yet again, this time to its final alignment, and was now under construction. I-35 North from Fratt to Toepperwein Rd. was also under construction.
The originally proposed routing for I-10 East inside Loop 410 had been scrapped, but no alternative had yet been made public. Routing for the SE segment of Loop 410 as well as I-37 was in limbo awaiting a decision on a possible runway expansion at Brooks AFB. The alignment for I-10 West had moved again, this time running parallel to Fredericksburg Rd. Most of the alignment for Loop 410 had been finalized and plans for US 90 West were now underway as well.
---
1957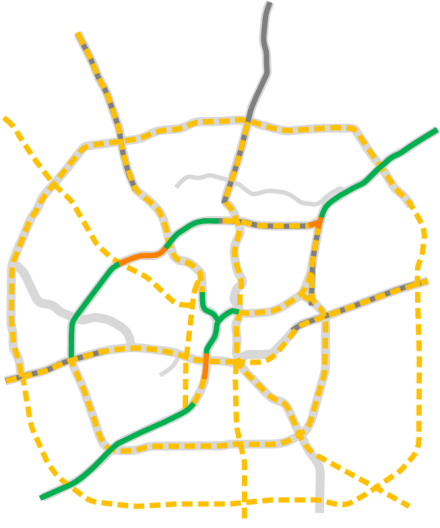 Freeway planning seems to have reached a fevered pitch by 1957. The latest proposal for I-10 West was for the alignment that would eventually be built. A new proposal for I-10 East would have routed it along Rigsby Ave. to WW White Rd., then northeast from there to today's route. The first proposals for the eventual I-37, US 281 North, and US 90 West were now on the table and the routing for the southeastern arc of Loop 410 had been settled.
Several other freeways were proposed that eventually would be scrapped including a US 281 South freeway along Roosevelt Ave., the Bandera Freeway along Culebra Ave. and Bandera Rd., and the first proposal for an "inner bypass" west of downtown along Zarzamora to connect I-10 West to I-35 South bypassing downtown.
I-35 South was now under construction from Nogalitos south to Division. The elevated "Central Expressway" connecting I-35 North and South and which would carry motorists "in the air through downtown" according to news reports at the time, was also under construction.
The first section of Loop 410 (then still Loop 13), from Culebra to Bandera, opened in 1956 as had I-35 South from SW Military to New Laredo Hwy. Loop 410 from Bandera to Blanco and Culebra to US 90 were under construction.
---
1959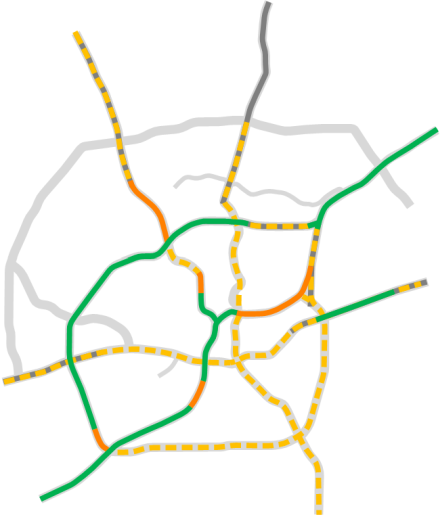 The northwestern arc of Loop 410 from US 90 all the way to Blanco was now complete. I-35 between Nogalitos and SW Military was under construction as was the section of I-35 from Broadway to the Walters St. area and north of Toepperwein.
I-35 had been completed south of New Laredo Hwy. and north of Fratt to Toepperwein. I-10 West was now under construction from Loop 410 to De Zavala as was the SW segment of Loop 410 between US 90 and I-35 South.
Earlier proposals for US 281 North and I-37 disappeared during this time, likely bceause they needed further review.
The final routing for I-10 East had finally been selected.
---
1961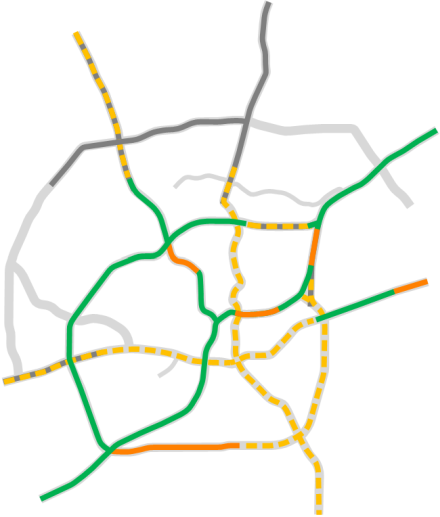 Substantial sections of freeway were now open to traffic. The western arc of Loop 410, from Broadway around to I-35 South, was complete. However, only the section of 410 from I-10 West to I-35 South carried the Interstate 410 shield; the section east of I-10 was marked as State Loop 410 because it did not yet meet Interstate standards. All of I-35 north of Fratt was now open, and all of I-35 South was now complete. I-10 West was now complete from Woodlawn north to De Zavala. Construction was underway to close the gap on I-35 North around the eastern side of Ft. Sam Houston. The section of I-10 East from Houston St. eastward was also under construction as was Loop 410 on the Southside between I-35 and Roosevelt. Finally, the first sections of the two-lane FM 1604 were now complete between I-10 West and US 281.
---
1964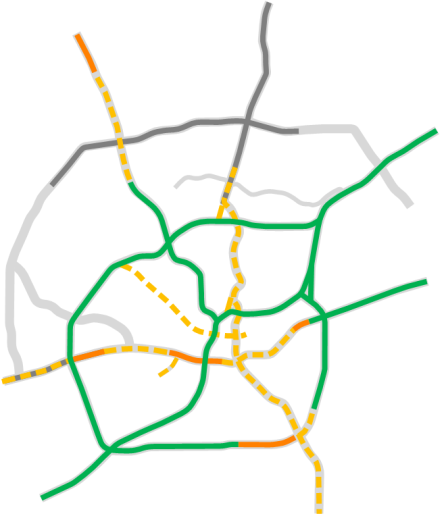 With federal Interstate Highway funding now pouring-in and approval from city voters on a freeway bond proposal, freeway construction was continuing briskly. In 1962, I-35 had become the first metropolitan Interstate in Texas to be fully completed. I-10 West was now under construction from De Zavala to Leon Springs. I-10 East was complete east of Houston St. Loop 410 on the Southside was open from I-35 east to Roosevelt, and most of the eastern arc from I-35 North to New Sulphur Springs Rd. was complete as well. The first section of US 90 West, from I-35 to Cupples Rd., was just starting construction. Additional sections of the two-lane FM 1604 were now complete across the Northside from Bandera Rd. to I-10 East.
Additional routes were now on the drawing boards including Spur 371 (the "Kelly Access Freeway", now General Hudnell Dr.) and a new routing for the never-built Bandera Freeway. The projected route for it was along Bandera Rd. starting at Huebner, crossing Loop 410, then shifting slightly west of Bandera Rd. and continuing southeast nearly to Guadalupe, then east to I-35, through the King William, Southtown, and Lavaca neighborhoods to I-37, then east and northeast to end at Commerce between Hackberry and New Braunfels Ave.
The routing of the North Expressway (US 281 North), which would soon become quite controversial, was now firmed-up. Two small freeway connectors, neither of which were ever built, were planned for the North Expressway: San Pedro Ave. north of Loop 410 to US 281 would have been upgraded to a freeway, and The St. Mary's Connector, running parallel to St. Mary's St., would have connected US 281 to I-35 just north of downtown. It would have also featured a downtown feeder spur in conjunction with elaborate distribution ramps for the other freeways surrounding downtown.
---
1967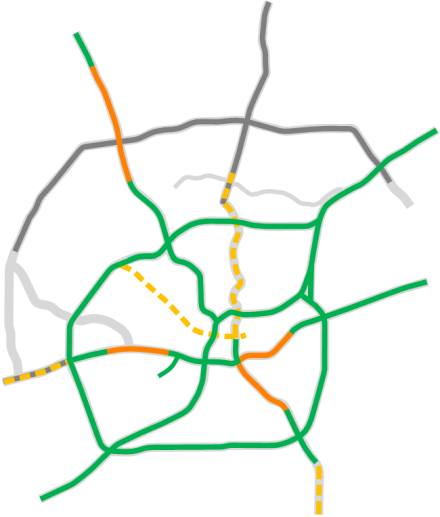 Freeway construction continued to move forward full-steam in preparation for the 1968 World's Fair ("HemisFair"). By 1967, the bulk of today's freeway system was complete or under construction. All of Loop 410 was now done, but the section from I-10 West to I-35 North still carried the State Loop 410 designation; it would not see an Interstate 410 shield until mid-1969. The first section of US 90 West as far as Cupples was open as was the section from Loop 410 to today's Old Hwy. 90. SP 371 was also complete. I-37 was under construction from Florida St. to US 181. All of the two-lane FM 1604 north of US 90 was now complete as well.
The Bandera Freeway proposal was unchanged, but the two connector proposals for the North Expressway appear to have been scrapped by this time.
---
1968

As HemisFair opened, most of the city's freeway system was in place. All of I-10 and I-35 was open. US 90 West was complete to Loop 410, and I-37 between Florida St. and SE Military was done. The section of I-37 between SE Military to US 181 was under construction as well as the section from Florida St. and I-35 with part of the the latter being temporarily paved and used for parking for the fair.
---
1973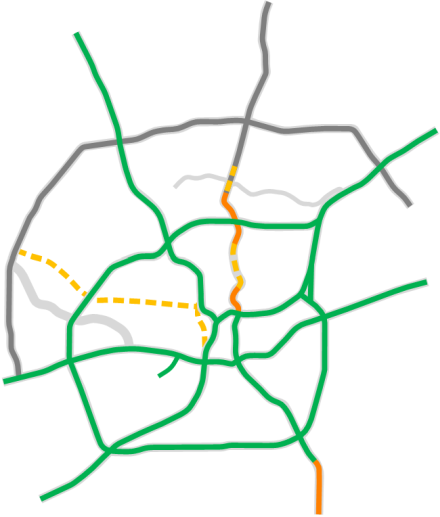 The early 1970s saw lots of controversy over the proposed US 281 North and, to a lesser extent, the Bandera Freeway. Work on the undisputed northern and southern parts of US 281 had begun in 1969, but was suspended in 1971 while the matter was debated in court. In late 1973, Congress allowed the state and city to complete the freeway without federal funding and work resumed immediately.
Meanwhile, the original Bandera Freeway route had been scrapped due to city officials' concerns about its path through an urban renewal area. A new proposal, now being called the "Hill Country Expressway", routed the freeway along Culebra from I-10 to Loop 1604 instead. In addition, a second route for an "inner-city bypass" freeway was proposed for the near West Side; it would have followed the railroad tracks from I-10 and Culebra to US 90 at Zarzamora. Its purpose was to provide a connection to Kelly AFB from the West and Northwest sides and ease worsening congestion along the original "Downtown-Y" freeways. Amid the controversies, I-37 had been completed downtown and south to US 181 and work had started from there south to the Loop 1604 area.
---
1979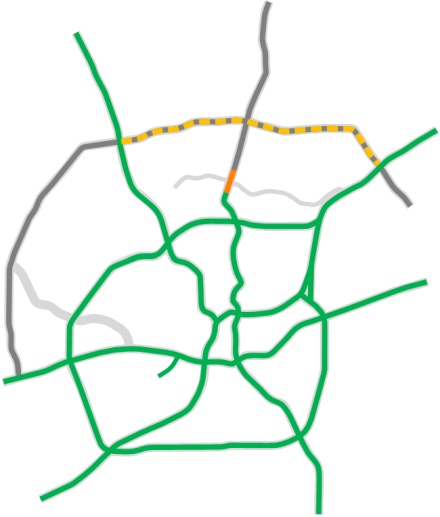 The fierce controversy over US 281 North was finally over and the freeway opened in 1978. A short section of 281 from San Pedro to Bitters was under construction. However, the Hill Country Expressway proposal had been scrapped by this time. The last sections of FM 1604 south of the city were now under construction, and the road would soon be renamed Loop 1604.
---
1984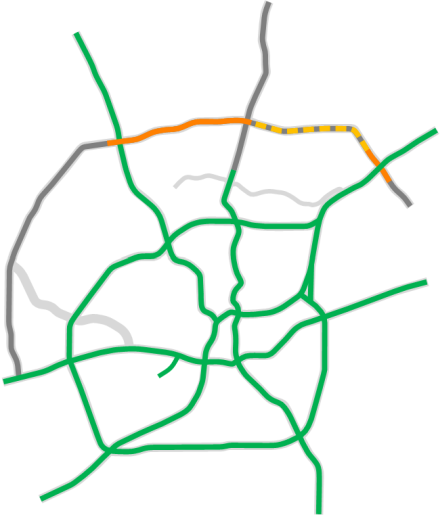 By the mid '80s, growth was approaching the northern sections of Loop 1604. As a result, an upgrade of the loop to a freeway was underway from I-10 West to US 281 North and in the area around I-35 North, and was planned between US 281 and I-35.
---
1987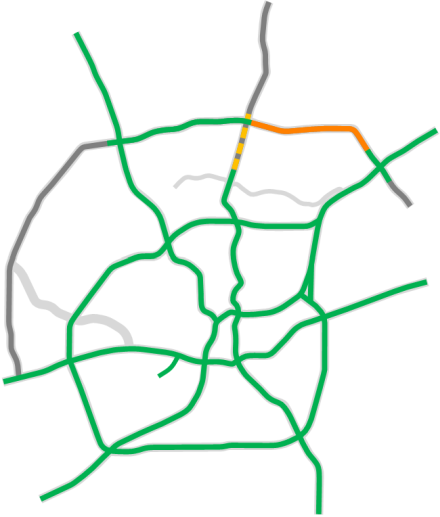 The Loop 1604 upgrade from I-10 to US 281 was done as was the Loop 1604/I-35 North interchange, and work was progressing to upgrade 1604 between US 281 and I-35. Plans to upgrade US 281 north of Bitters to Loop 1604 were announced, and the access roads for SH 151 outside Loop 410 were under construction (not indicated on map.)
---
1990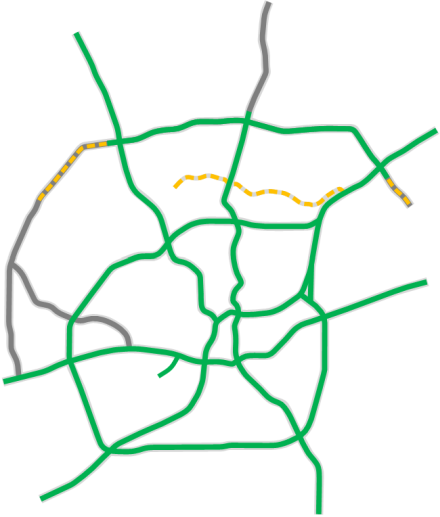 The most heavily traveled sections of Loop 1604 across the Northside had now been upgraded to a freeway, ending the days of the "Death Loop", so-called because of the high number of fatal accidents that had occurred along it. Plans were now in the works to extend the western end of the freeway south to Bandera Rd. Work to upgrade US 281 North between Bitters and Loop 1604 was completed in record time, and the SH 151 access roads were now complete along its entire route. Initial proposals for an "East-West Parkway"-- subsequently named Wurzbach Parkway-- to relieve traffic on Loops 410 and 1604 had been announced.
---
2000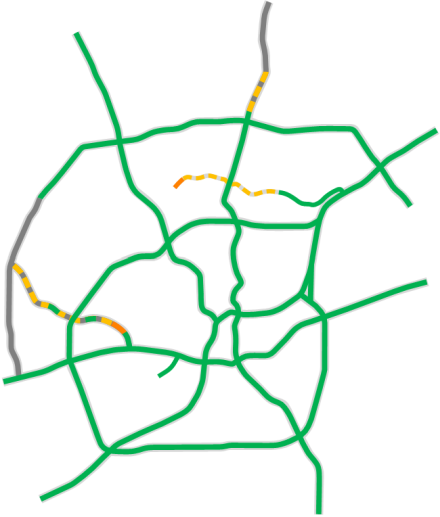 At the dawn of the new millennium, short sections of freeway mainlanes had been added to SH 151 at Potranco, Pinn, and Old Highway 90, and the freeway mainlanes from Old Highway 90 to Callaghan were under construction. Proposals to finish the SH 151 freeway were now on the books. Also, an overpass on Loop 1604 at Kitty Hawk built in the mid '90s essentially extended that freeway east to FM 78. On the western end, Loop 1604 had been upgraded to a freeway from John Peace to Bandera Rd. The first section of the Wurzbach Parkway was open from Wetmore to O'Connor and the segment from Lockhill-Selma to NW Military Hwy. was nearing completion.
---
2005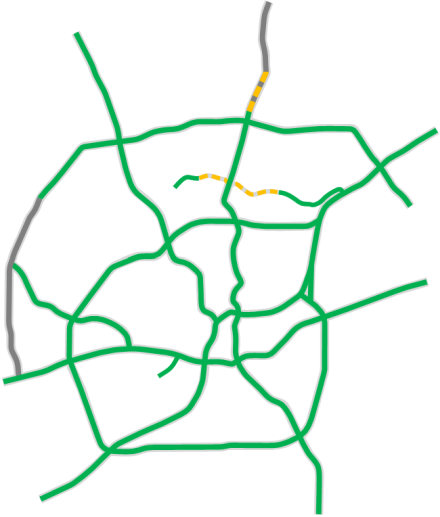 Work to completed the mainlanes of SH 151 had been completed by 2005. Wurzbach Parkway was done now from Lockhill-Selma to Blanco Rd. and plans were on the books to finish the remaining segments. Initial plans to upgrade US 281 to a freeway north of Loop 1604 to Stone Oak Parkway were announced in the early 2000s. Plans to build it as a tollway created a storm of controversy that delayed it for over a decade.
---
2012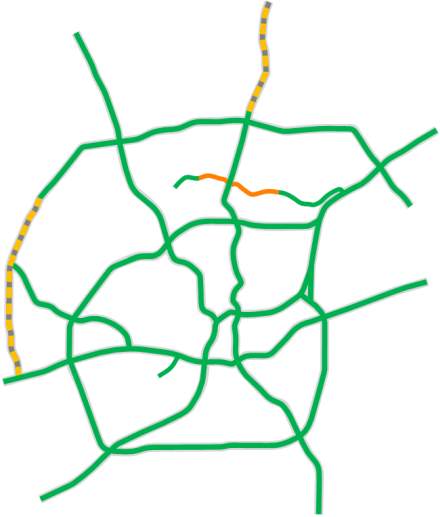 Work to finally build the missing middle segments of Wurzbach Parkway was now underway and plans were announced to extend the Loop 1604 freeway south from Bandera to US 90.
---
2015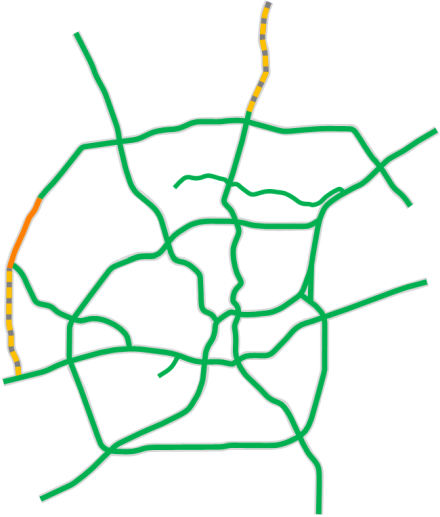 Construction on the first phase to expand Loop 1604 West, from Bandera to SH 151, was now underway.