Other San Antonio Area Roads
State Highway 130 (Pickle Parkway)
---
This page last updated January 2, 2018
Prior to 2012, Interstate 35 was the only major highway linking the San Antonio and Austin areas and, as a result, was becoming increasingly congested. As early as 1986, local officials began planning a parallel reliever highway for I-35, but the idea gained little traction at the time, especially as I-35 was in the process of being expanded. However, by the late '90s, with the tremendous population growth of both cities as well as increasing truck traffic resulting from NAFTA regularly clogging I-35, state and local officials dusted-off the plan and christened it SH 130. While development of the route continued as a regional project, state officials also proposed rolling most of the SH 130 corridor into the "TTC-35" route of the now-defunct Trans-Texas Corridor project. When the TTC was abandoned in 2009, development of the 86 mile SH 130 continued as a standalone regional project. Due to limited funding, the project was developed as a toll project.

The first two segments of SH 130, from I-35 at Georgetown east around Round Rock to US 290 east of Austin, opened in late 2006. The third segment, from US 290 to SH 71 near Bergstrom Airport, opened in mid 2007. The fourth segment, from SH 71 to US 183 near Mustang Ridge south of Austin, opened in 2008. These projects are owned and operated by the Central Texas Turnpike System, a subsidiary of the Texas Department of Transportation (TxDOT.)

The remaining 41 mile section from Mustang Ridge to Lockhart and from there to I-10 near Seguin, known as segments 5 and 6, were built under a Comprehensive Development Agreement between the state and the SH 130 Concession Company LLC, a consortium of Spanish infrastructure company Cintra and San Antonio-based construction giant Zachary American Infrastructure. The agreement called for the consortium to build and maintain the roadway for 50 years in exchange for keeping a portion of the tolls collected. Construction began in April 2009 opened to traffic on October 24, 2012.

Unlike the first four segments, segments 5 and 6 did not have any toll booths. Instead, all toll collections have been electronic since opening, one of the first tollways in the nation to do so. Segments 1-4 have since also gone to all-electronic tolling.

There has also been discussion about including a future freight railroad bypass in the SH 130 corridor. Freight train traffic, like its counterpart truck traffic, has also increased substantially in the region, and the existing railways go right through the center of the cities in the I-35 corridor, causing recurring congestion problems. A railway bypass along SH 130 would help reduce congestion in the cities on the corridor and would also free the existing rail line for a long-planned San Antonio-Austin commuter rail line.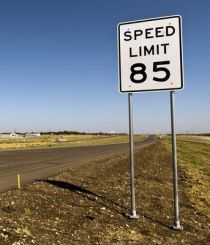 In early 2012, TxDOT approved increasing the speed limit on the original segments of SH 130 east of Austin to 80 mph. In September 2012, approval was given for an 85 mph speed limit for Segments 5 and 6. This is the highest speed limit in the United States.
Despite the presence of SH 130, I-35 between San Antonio and Austin continues to be overloaded and is the busiest inter-metro Interstate in Texas. All traffic counts in the corridor now exceed 100,000 vehicles per day. The toll rates on SH 130 combined with the 40 mile distance from I-35 in San Antonio to SH 130 at Seguin is often cited as a reason for low usage of SH 130 between Seguin and Austin. (In reality, a trip from south San Antonio to Georgetown using SH 130 only adds a little less than 20 miles to the total mileage.) This low usage led to the company operating Segments 5 and 6 to file for bankruptcy protection in 2016. However, reports are that traffic counts have been increasing in recent years and the traffic volumes on the four segments east of Austin are generally healthy topping out at around 50,000 in 2016.
To help provide a more cohesive bypass route to drivers, the Texas Transportation Commission in 2011 approved extending the SH 130 designation from the southern terminus of the SH 130 toll road east of Seguin westward along I-10 to Loop 410, then south along Loop 410 to I-35 South, thus allowing drivers to follow a single-numbered route. Signage was installed in 2013 along with signs advertising the "SH 130 alternate route to Austin/Waco" at strategic locations in San Antonio.
The route is named after former US Representative J.J. Pickle who served the Austin area from 1963 to 1995 and was instrumental in obtaining funding for planning studies for SH 130.
---
Additional information